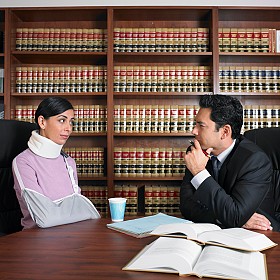 If you have suffered a personal injury and want to see if you are entitled to compensation, there are a number of steps you should follow to ensure the process is as smooth and simple as possible.
In order to have the process of starting your personal injury litigation made as simple and stress free as possible, we recommend that you follow the following steps:
Fill in one of our FREE case case evaluation forms here
We will forward the information from your personal injury case evaluation onto a solicitor in your area who is suited to handle your case
You will then be contacted by a personal injury attorney who will guide you through the legal proceedings and make the entire process as stress free as possible
Below are some useful tips on how to prepare for making your personal injury claim that you should also follow.
Step 1: Make detailed notes about the accident It is very important that you keep track of all the details surrounding your accident and that this information is as accurate as possible. The more detailed , accurate information that you have about your case, the more likely a personal injury attorney will take your case.
Step 2: Verify that you actually have a case. The law on personal injury varies from state to state so when speaking with a personal injury attorney, it is best to first check that what you are claiming for can actually be brought to court. Failing to check this before starting litigation can be a very costly mistake as legal proceedings can be very expensive.
For more useful advice on making a personal injury claim, please read our Personal Injury blog here